HEALTH CONTEXT
Since the health crisis linked to the COVID-19 pandemic, Pacifique Sud Group has re-adapted its primary activity as a producer and supplier of cosmetic and food raw materials into a producer of gels and hydro-alcoholic solutions.
With its know-how, its production plant and above all the involvement of its employees, Pacifique Sud has been manufacturing since March, two galenic forms that allow the disinfection of hands, with different packaging: 100 ML – 125 ML – 250 ML – 500 ML 750 ML – 1L – 5L.
The group provides healthcare professionals, wholesalers, individuals as well as companies that are gradually restarting their business.
MANUFACTURING PROCESS
96% ethyl alcohol is the main ingredient that is used in hydro-alcoholic gels and solutions.
The industrial water used to make our products is osmosis which guarantees water of pharmaceutical quality.
The packaging, labelling as well as the installation of the words "lot number" and "DLUO" is also done in our factory in Aubagne.
All the manufacturing steps, from packaging to the cardboard of our gels and hydro-alcoholic solutions follow a strict hygiene regulations to which employees are trained. Today, we manufacture and package up to 8,000 units per day.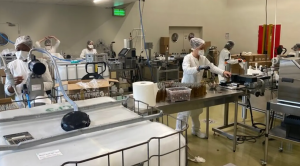 Regulation
The formulation of our hydro-alcoholic gels and solutions is in line with the recommendations of ANSM (National Agency for the Safety of Medicines and Health Products) and WHO (World Health Organization).
composition
Hydro-alcoholic gel: Ethanol – Glycerin – Active substance concentration: 64.7% (v/v)
Hydro-alcoholic solution: Ethanol – Hydrogen peroxide – Glycerin – Active substance concentration: 80.1% (v/v)
Tips for use
Fill the palm of one hand with the solution and rub all the surfaces of the hands until the skin is dry.